I photographed this Rough Green Snake on June 2017 while it was crossing the asphalt section of the tour road at the Sequoyah National Wildlife Refuge in Oklahoma.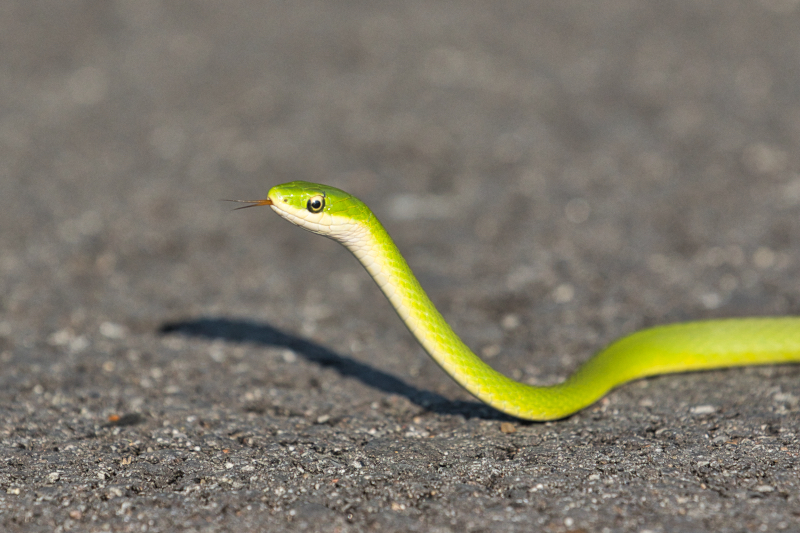 How I Got The Shot – Rough Green Snake
I was driving the tour road (Sequoyah National Wildlife Refuge) when I spotted this snake trying to cross. I was able to stop my pickup and exit with my camera and get a few photos before it went into the brush.
I was hand holding a Canon EOS 7D Mark II camera with a Canon EF 100 – 400 mm f/4.5-5.6L IS II lens. I was shooting in aperture priority mode (AV) with a shutter speed of 1/2500 of a second at f7.1 and the ISO at 800. I also had a -0.3 exposure value. White Balance on auto. I was using single point, continuous auto focus with evaluative metering.
Rough Green Snake Facts
Grow to 22 to 32 inches in length. (Record is 45 inches)
They feed mainly on insects such as crickets and grasshoppers, although snails, spiders and tiny frogs are also eaten. Most prey are grabbed and swallowed alive.
Females lay 2 to 12 very elongated eggs. In June or July.
In August and September, eggs hatch, yielding baby snakes that are 7 to 8 inches long.