This Prairie Lizard was on one of my steps on my deck at my cabin here in the Ouachita Mountains of Arkansas. I posted a photo yesterday of one that I photographed on a wood pile on this same property (Prairie Lizard And Spider).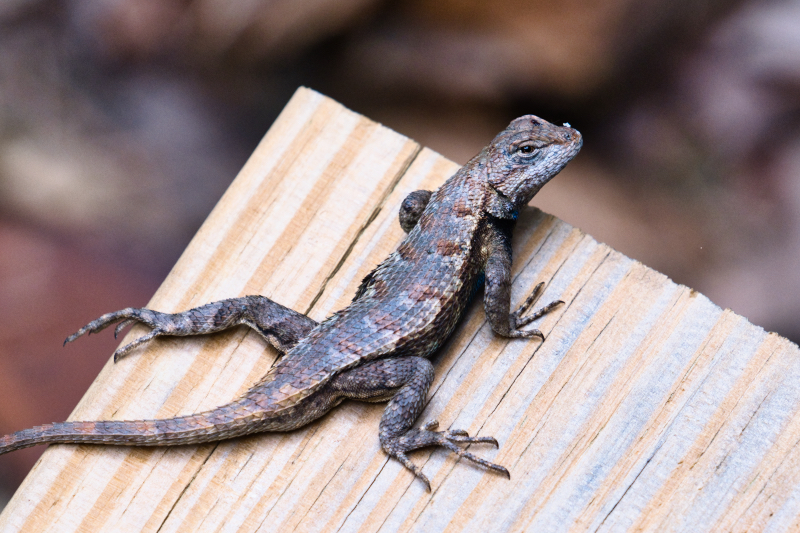 I spend a lot of time photographing the different types of Lizards I have here on my property. They are interesting, and I am lucky to have several. They are also very cooperative if you know how to approach them.
I like photographing them at different angles so that I can show you how these Lizards look. I like the eye contacts this one made. It was keeping an eye on me so that I wouldn't step on it.
How I Got The Shot – Prairie Lizard
I was hand holding a Fujifilm X-T3 camera with a Canon EF 100-400 mm f/4.5-5.6L IS II lens attached with a Fringer EF-FX Pro. I was shooting in aperture priority mode (AV) with a shutter speed of 1/350 of a second at f8 and the ISO at 800. I also had a -0.3 exposure value. White Balance was set on auto.
Prairie Lizard Facts
These lizards mate in spring, and lay 3 to 16 eggs.
The Prairie Lizard used to be called the "Northern Fence Lizard" (Sceloporus undulatus hyacinthinus), a subspecies of Eastern Fence Lizard, but biologists have revised its taxonomy. Now, it's considered a distinct species.
They are fast and good climbers. Upon approach, they are likely to tuck behind a nearby tree or log.