During one of my recent visits to the Sequoyah National Wildlife Refuge in Oklahoma, I was able to capture an incredible photo of a bedded Whitetail Doe. This beautiful creature was nestled in the brush near Baker's Field, located on the west side of the road that leads to South Sally Jones Lake.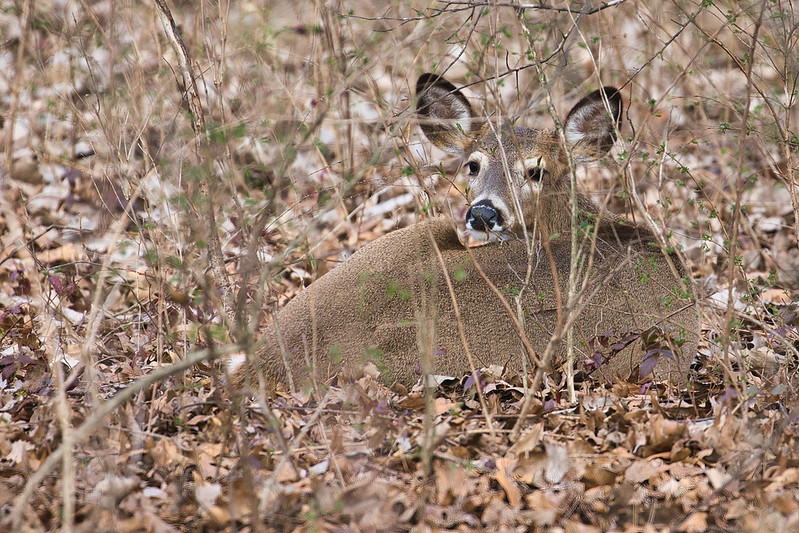 As I drove slowly on the road towards the parking area, I almost missed her because she blended in so well with her surroundings. I'm used to seeing deer in this area, but it was the first time I had seen one bedded down so close to the road. It was an incredible sight to witness, and I felt grateful to have my Canon EOS 7D Mark II camera with a Canon EF 100-400 mm f/4.5-5.6L IS II lens attached, resting on a bean bag draped over the open window of my pickup.
It's worth noting that Whitetail Deer often bed down in wooded areas, especially during the heat of the day. This is because the shade helps them stay cool, and it also provides cover from predators. As a wildlife photographer, it's always a thrill to capture moments like this, where I get to see these beautiful creatures in their natural habitat.
Overall, the Sequoyah National Wildlife Refuge is a true gem for nature enthusiasts and photographers alike. If you're in the area and interested in wildlife photography, I highly recommend taking a trip there to see the breathtaking sights and perhaps even spot some Whitetail Deer bedded down in the brush.
A few more photos of Whitetail Does from the Sequoyah National Wildlife Refuge: