I was parked in the Goss parking area at the Sequoyah National Wildlife Refuge in Oklahoma (March 2009). I saw a Raccoon walk out of the woods so I got out of my pickup to get a few photos of it. The Raccoon came right up to me, showing me an injury that it had on its paw. This Raccoon sniffed around on my boots after showing me the injury.
The injury didn't look that bad to me. I could see that it looked like a raw spot.
It went to the side of the road and began searching for a meal. It didn't seem like the injured paw was causing it trouble in using it to search in the water.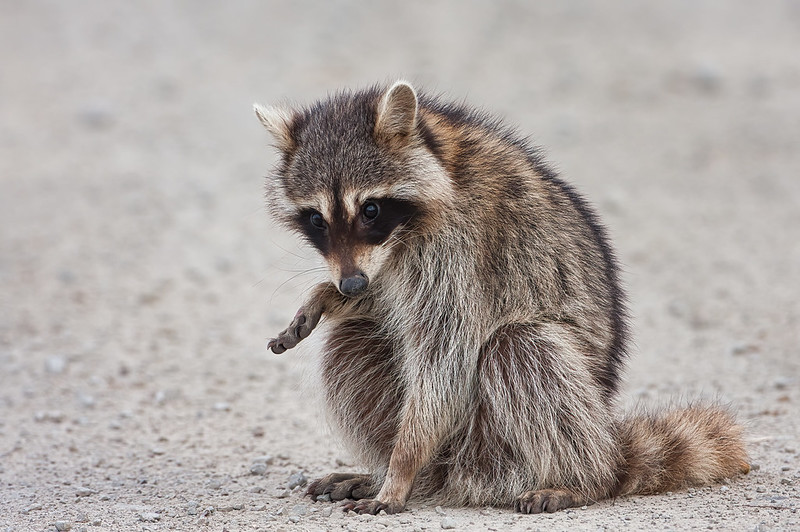 How I Got The Shot – Injured Raccoon
I was hand holding a Canon EOS 40D camera with a Canon EF500mm f/4L IS USM lens attached. This long lens is why I didn't get a photo when it was touching my boot. It was to close.
Camera Settings On First Photo
AV Mode
Back-button focus
Aperture f4.5
ISO 400
Shutter speed – 1/800 sec.
Auto White Balance
Exposure Compensation – 0 EV
Single Point, Continuous Auto Focus
Multi Metering
Focal Length – 500 mm
Camera Settings On Second Photo
AV Mode
Back-button focus
Aperture f5.6
ISO 400
Shutter speed – 1/800 sec.
Auto White Balance
Exposure Compensation – 0 EV
Single Point, Continuous Auto Focus
Multi Metering
Focal Length – 500 mm
Here are a couple of other Raccoons I have photographed at this refuge: Large Raccoon On Tree and Cinnamon Raccoon In Oklahoma