It is rarely I photograph a Great Blue Heron getting this low in the water to catch fish. You can see in my photo it is getting ready to strike at something in the water. The other two photos show that this worked, and it was successful.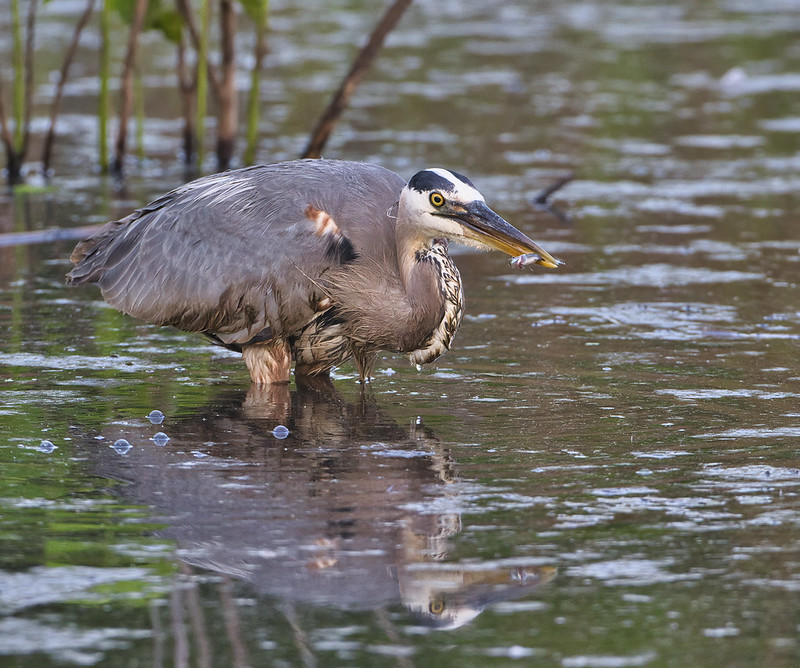 How I Got The Shot – Great Blue Heron Getting Low
I parked in an area known as the Lower Scarborough (Sequoyah National Wildlife Refuge). I saw this Great Blue Heron slowly moving to deeper water which brought it out into the open so I could get these photos.
Note: The Lower Scarborough is located north of the 4-corners intersection and past Minor's Cove. This is the same area I photographed a North American Beaver Bathing.
I have my camera and lens resting on a bean bag draped over the open window of my pickup.
Technical:
• Location: Sequoyah National Wildlife Refuge (Oklahoma)
• Date Taken: June 9, 2020
• Aperture: f5.6
• Shutter speed: 1/400 sec.
• ISO: 2000
• Exposure Bias: 0 EV
• Exposure Mode: Aperture Priority
• Focal Length: 500 mm
• Lens: Canon EF 500 mm f/4L IS USM
• Camera: Canon EOS 7D Mark II