I photographed this Box Turtle on the 8th of this month (April). It was crossing the auto tour road at the Sequoyah National Wildlife Refuge in Oklahoma. Three-toed box turtles are known to migrate seasonally. They like forested areas in early spring, summer, and late fall here in my area (Arkansas and East Oklahoma).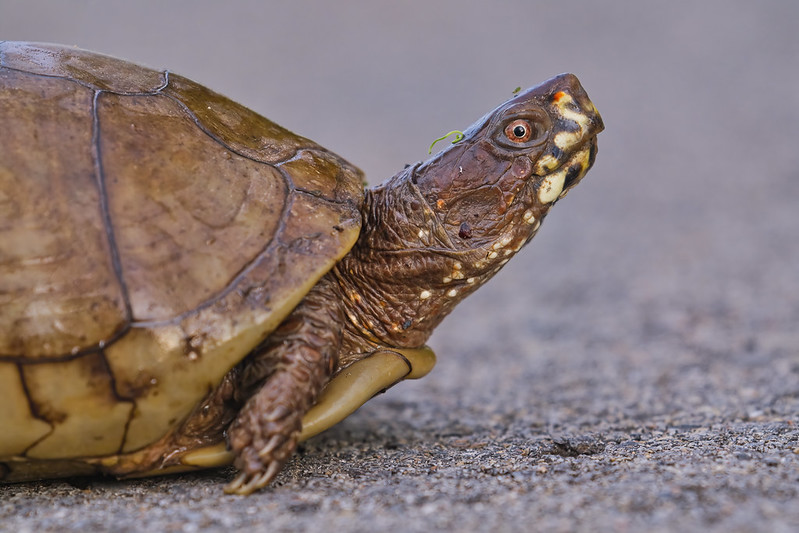 How I Got The Shot – Early Spring Box Turtle
This Three-toed Box Turtle was crossing the paved section of the auto tour road in the Sandtown Woods area. I parked and exited my pickup with my Fujifilm X-T3 camera with a Canon EF 100-400 mm f/4.5-5.6L IS II lens attached with a Fringer EF-FX Pro. I also had my bean bag that I placed on the road to rest my camera and lens on. This was at 6:22 a.m. and I had the Refuge to myself so I didn't have to worry about traffic. I took a few quick shots and waited to make sure the turtle crossed the road safely.
Camera Settings
AV Mode
Back-button focus
Aperture f7.1
ISO 800
Shutter speed – 1/125 sec.
Auto White Balance
Single Point, Continuous Auto Focus
Multi Metering
Focal Length – 400 mm
A Few More Box Turtles I Photographed