I photographed this female Eastern Bluebird with a large spider for its young in my yard here in Arkansas.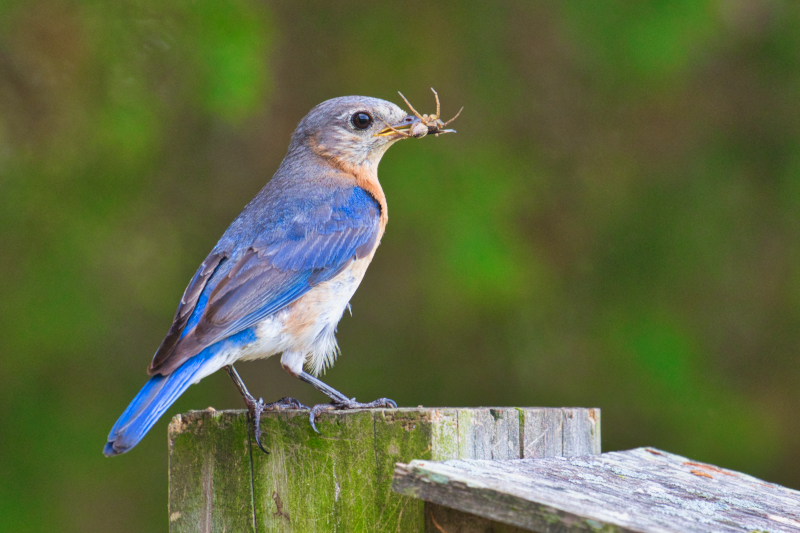 Birds choose spiders over other insect meals because of the larger amount of taurine found in spiders, according to Kathryn Arnold, an ornithologist at the University of Glasgow. Taurine is an amino acid that impacts growth, resulting in enhanced intelligence, reduced anxiety, and improved vision.
I have a 2 acre yard and I have three nesting boxes setup for the Bluebirds. I only have one nest box being used at a time each year. I never know which one. Sometimes I will get lucky and the Bluebirds will have two broods. They can have up to three but I have had only two.
Here is a link to my setup for photographing the Eastern Bluebirds in my Yard: My Eastern Bluebird Photography Setup
Pairs might build their second nests on top of the first nest, or they might nest in an entirely new site. I clean the nest box out after every brood leaves.
These birds are territorial during the breeding season and I'm sure this is why I only have one pair at a time nesting. I have the nesting boxes spread apart, but they need a large feeding area.
I always wonder if the same Bluebirds come back to my nesting boxes each year. I read that Eastern Bluebirds can live for 6 to 10 years.
How I Got The Shot
I have my nest boxes setup so that I can park my pickup nearby and Photograph them from inside the pickup. This works great because they are comfortable seeing my vehicle.
I had my Canon EOS 7D Mark II camera resting on a bean bag draped over the open window of my pickup. I was using a Canon EF 100 – 400 mm f/4.5-5.6L IS II lens. I was shooting in aperture priority mode (AV) with a shutter speed of 1/250 of a second at f5.6 and the ISO at 800. White Balance was set on auto. I was using single point, continuous auto focus with evaluative metering.
Eastern Bluebird Facts
About two-thirds of the diet of an adult consists of insects and other invertebrates. The remainder of the bird's diet is wild fruits or berries.
The main tree I have in my yard is pine, and they make nests out of pine needles, grass, fur, and twigs.
Eastern Bluebirds love the bird bath I have set up in my yard. Bluebirds love to bathe and play in bird baths.
Nesting takes place between March and August. The four to six eggs are incubated only by the female.