During my recent trip to the Great Salt Lake in Utah, I came across a sight that truly highlighted the severity of the drought that has been plaguing the area for several years now. A bison walking across the Great Salt Lake bed, with the vast expanse of dry earth stretching out behind it, was a sobering reminder of the impact that this drought has had on the region.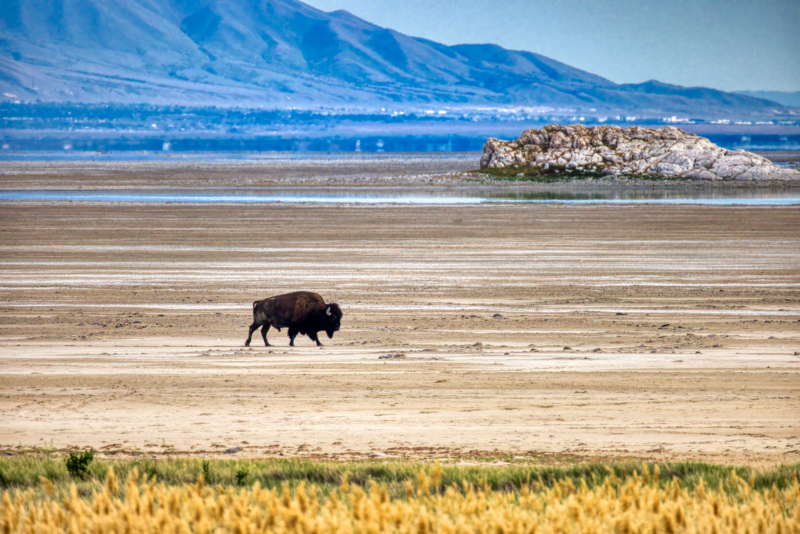 Utah is currently experiencing one of the worst droughts in its history, with the Great Salt Lake water levels reaching their lowest point in decades. This has had a devastating effect on the lake's ecosystem and the wildlife that depend on it. The dry conditions have caused food shortages and habitat loss for many species.
Despite the harsh conditions, I was able to capture this stunning photo of a bison walking across the barren Great Salt Lake bed. Hand-holding my camera and lens, I was able to capture the striking contrast between the powerful animal and the dry earth beneath it.
This photo serves as a poignant reminder of the importance of preserving and protecting our natural habitats. As climate change continues to affect our planet, it is crucial that we take action to mitigate its impact and ensure a sustainable future for both wildlife and humans alike.
Gear Used:
Camera: Canon EOS R5
Lens: RF 800 mm f/11 IS STM
Technical:
Location: Antelope Island State Park (Utah)
Date and Time Taken: June 2, 2022 (7:02 A. M.)
Exposure Mode: Manual
Aperture: f11
Shutter speed: 1/3200
ISO: 3200 (Auto)
Exposure Compensation: 0.7
Focal Length: 800 mm
This is another photo I took of a Bison on this trip: Bison Taking A Dirt Bath