I spent last week photographing Whitetail Deer that live on my property near the Ouachita National Forest here in Arkansas. These two Bucks are regular visitors. One is a three point, and the other is a spike.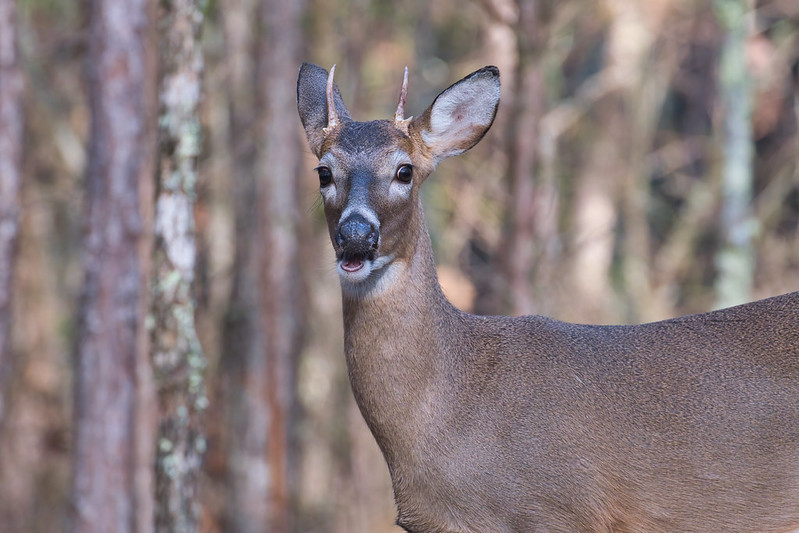 How I Got The Shot – Three Point Buck And Spike
I have a ground blind that I'm photographing from. I have my camera and lens on a tripod.
Gear Used:
Camera: Fujifilm X-T3
Lens: Canon EF 100-400 mm f/4.5-5.6 L IS II USM (attached with a Fringer EF-FX Pro)
Technical:
Location: Oden (Arkansas)
Date and Time Taken: November 24 and 26, 2020 (09:07 and 09:41 A. M.)
Aperture Priority
Aperture: f5.6 and 7.1
Shutter speed: 1/150 and 1/420 (as determined by the camera)
ISO: 2500
White Balance: Auto
Metering Mode: Multi
Back-button Focus
Single Point Continuous Auto Focus
Exposure Compensation: +0.33
Focal Length: 400 mm
Processed With Luminar 4
Here is a Tom Turkey and a young Deer I photographed out of this same ground blind: Tom Turkey On Thanksgiving Day and A Deer Bird Watching