I photographed this Rough Green Snake while it was crossing a Ouachita National Forest Road here in Arkansas.
I noticed that this snake had a dark spot on the side of its head. I have never seen this before, so I did some research. I read that when they die their typical bright green color fades to a bluish or black color and dead specimens may look like a small black racer.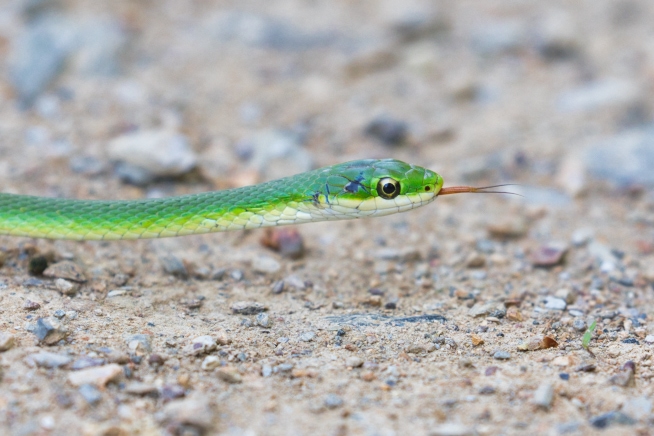 It is obvious this snake is alive, but I am wondering if this is a sign of old age.
The Rough Green Snake has an average lifespan of 5 years in the wild, but they can reach up to 8 years.
A friend on Facebook suggested that this spot could be from an injury.
This snake is one of the easiest for me to photograph because number one they are not poisonous. Number two, they are docile, often allowing me to get very close.
Here is another Rough Green Snake I photographed crossing the auto tour road at the Sequoyah National Wildlife Refuge in Oklahoma: Rough Green Snake Crossing Asphalt Road
How I Got The Shot – Rough Green Snake With Dark Spot
During the summer I take photo walks on the Ouachita National Forest roads here in Arkansas. I am able to see lots of wildlife especially snakes.
On this day I was carrying my Canon EOS 7D Mark II with the Canon EF 100 – 400 mm f/4.5-5.6L IS II lens using a Blackrapid Camera strap.
I sat on the road while this snake posed for me and I was able to get several photos.
Camera Settings
AV Mode
Back-button Focus
Aperture f7.1
ISO 800
Shutter speed – 1/800 of a second
Auto White Balance
Single Point, Continuous Auto Focus
Evaluative Metering
Focal Length – 349 mm