Last week, while exploring the Lower Scarborough Slough area of Sequoyah National Wildlife Refuge in Oklahoma, I had the opportunity to witness a North American Beaver enjoying its morning meal. The Lower Scarborough Slough can be found just north of the 4-corners intersection and Miner's Cove.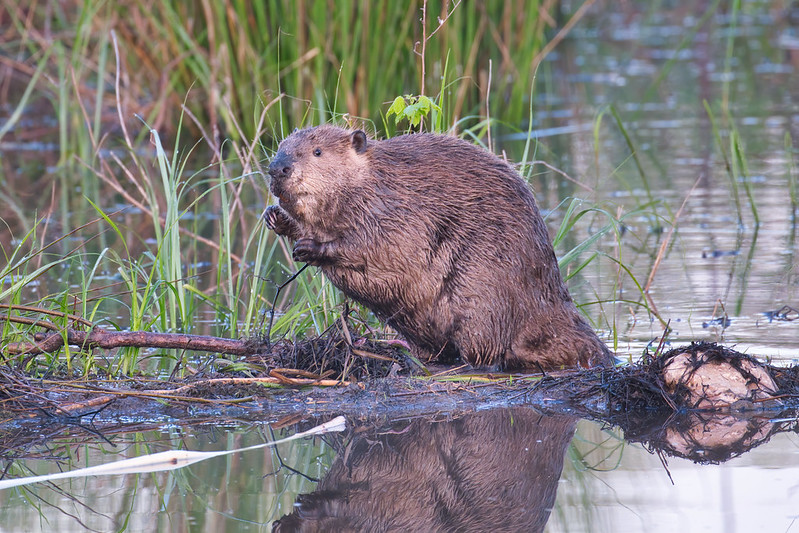 Upon arriving at the slough, I spotted the Beaver out of the water and quickly set up my gear to capture the moment. Using my Fujifilm X-T3 camera with a Canon EF 100-400 mm f/4.5-5.6L IS II lens attached with a Fringer EF-FX Pro, I positioned my equipment on a bean bag draped over the open window of my pickup truck.
For a few minutes, the Beaver nibbled on a tree limb before eventually diving back into the water and swimming west up the slough. As these creatures are typically nocturnal, I felt particularly fortunate to witness this behavior during daylight hours.
To account for the low light conditions, I had to set my ISO higher than usual at 3200. Although the sun had just begun to rise, the cloudy conditions made the lighting challenging. It's worth noting that, in my experience at this Refuge, I typically see Beavers swimming in the water rather than feeding on land.
It's fascinating to observe North American Beavers in their natural habitat and learn about their eating habits. These animals primarily consume bark, twigs, and leaves from a variety of trees, including cottonwood, and willow. They also enjoy snacking on aquatic vegetation, such as water lilies and cattails. Watching this Beaver dine on a tree limb was a unique opportunity to witness their feeding behavior firsthand.
I also know that Beavers will eat corn: Beaver Eating Corn On The Cob
Camera Settings
AV Mode
Aperture: f6.3
ISO: 3200
Shutter speed: 1/320 sec.
Focal Length: 400 mm
Here is a photo of this same Beaver bathing: North American Beaver Bathing