I saw this North American Beaver feeding early one morning last week at the Sequoyah National Wildlife Refuge in Oklahoma. It was in an area known as the Lower Scarborough Slough. Lower Scarborough is just north of the 4-corners intersection and Miner's Cove.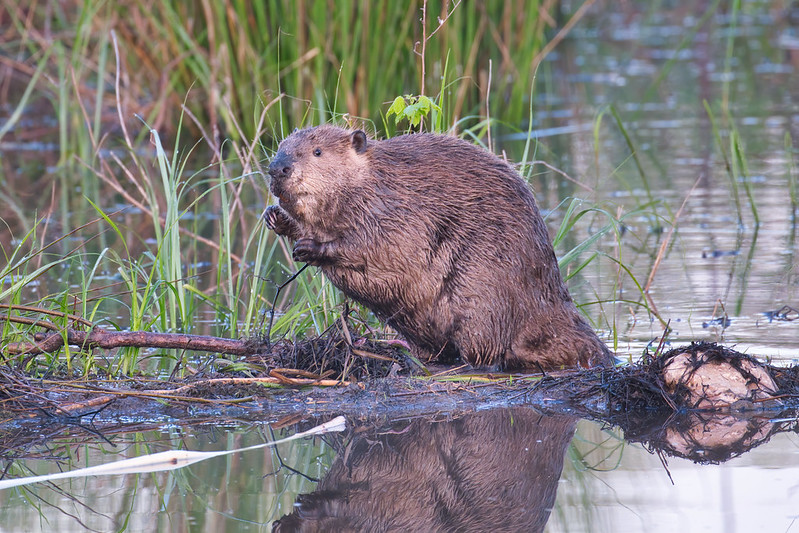 How I Got The Shot – North American Beaver
I drove up to this slough and parked on the side of the road when I noticed the Beaver out of the water. I'm using a Fujifilm X-T3 camera with a Canon EF 100-400 mm f/4.5-5.6L IS II lens attached with a Fringer EF-FX Pro. I had this setup resting on a bean bag draped over the open window of my pickup.
The Beaver ate on a tree limb for a few minutes before entering the water and leaving the area. It swam west up the slough.
I'm lucky to see one of these Beavers during daylight hours because they are mainly active at night. I had my ISO at 3200 which is higher than I normally like to use. The sun was just beginning to rise but it was cloudy. If I do see a Beaver at this Refuge it is usually swimming in the water and not out of the water feeding.
Camera Settings
AV Mode
Back-button focus
Aperture f6.3
ISO 3200
Shutter speed – 1/320 sec.
Auto White Balance
Single Point, Continuous Auto Focus
Multi Metering
Focal Length – 400 mm
Here is a photo of this same Beaver bathing: North American Beaver Bathing