This Great Blue Heron caught this Freshwater Drum at the Sequoyah National Wildlife Refuge in Oklahoma. I have photographed several birds near the Sally Jones West Causeway the past few days. I made a blog post with a Great Egret Tossing A Fish on this same day.
This Great Blue Heron was standing in shallow water trying to catch small fish that were surfacing near the top. It suddenly took flight and dove into deeper water a short distance away. I knew it had something large because of the amount of time it stayed under water struggling. When it finally came up, it had a large Freshwater Drum.
The Heron was able to take flight with the fish in its beak, taking it back to shallow water.
After the heron landed it readjusted the Drum several times. This is what I was able to photograph in the above photo. I thought it was preparing the fish for swallowing. I was wrong! It took flight a second time with the Drum, landing several yards away in the timber. I couldn't see it to photograph it.
Below is another Great Blue Heron I photographed back in 2014 with a Freshwater Drum. This was also at the Sequoyah National Wildlife Refuge.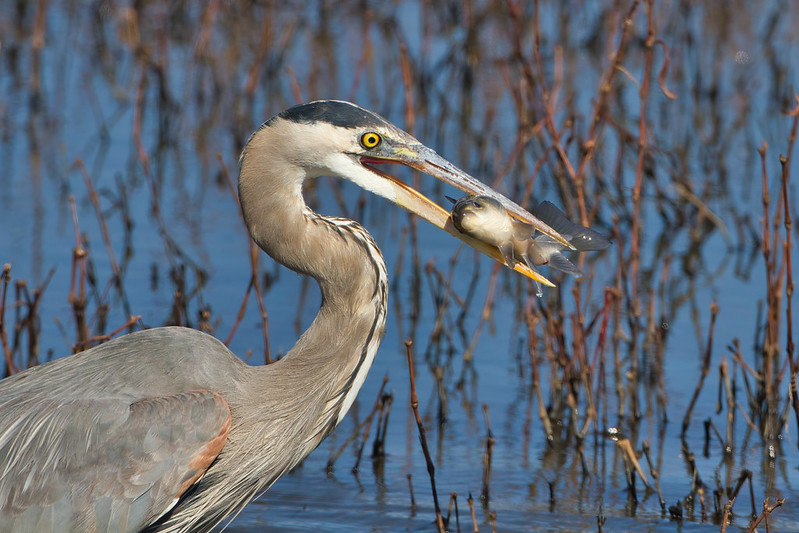 How I Got The Shot (Top Photo) – Great Blue Heron With Freshwater Drum
I had my Fujifilm X-T3 camera resting on a bean bag draped over the open window of my pickup. I had a Canon EF 100-400 mm f/4.5-5.6L IS II lens attached with a Fringer EF-FX Pro.
When the Great Blue Heron took flight to go after the Freshwater Drum, I was unable to photograph it because my mirror was in the way. The second time it took off the with the Drum my mirror was still in the way so I missed that shot as well. When it took flight the third time with the fish, I wasn't ready and missed that shot as well. I wasn't expecting the Heron to fly with the Drum that third time because I thought it was in a good spot to swallow the fish. I was checking my exposure instead because the light was getting harsh. As you can see, I do miss opportunities.
Camera Settings
AV Mode
Back-button Focus
Aperture f7.1
ISO 800
Shutter Speed – 1/1400
-0.7 Exposure Value
Auto White Balance
Single Point, Continuous Auto Focus
Multi Metering
Focal Length – 400 mm