I photographed this Eastern River Cooter back in June 2018 while it was crossing the tour road at the Sequoyah National Wildlife Refuge in Oklahoma. Finding one on the road makes it easy to see one of these turtles up close. Females often cross roads looking for suitable nesting spots.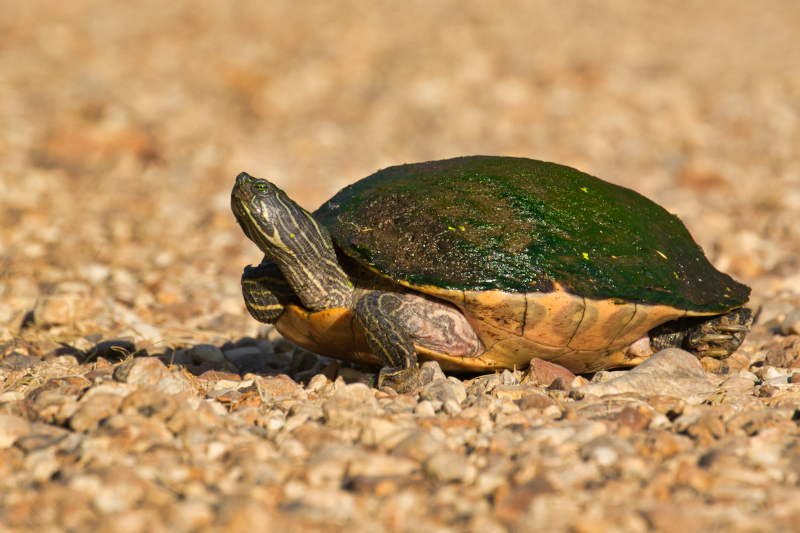 How I Got The Shot – Eastern River Cooter
I drove up on this Turtle crossing the tour road at the Sequoyah National Wildlife Refuge. I parked a short distance and exited my pickup and got as close as I could. When I approached, the Turtle stopped and I took a few photos.
I was hand holding my Canon EOS 7D Mark II camera with the Canon EF 100 – 400 mm f/4.5-5.6L IS II lens. I was shooting in aperture priority mode (AV) with a shutter speed of 1/2000 of a second at f7.1 and the ISO at 500. White Balance set on auto. I was using single point, continuous auto focus with evaluative metering.
Eastern River Cooter Facts
They prefer places with flowing water, like rivers, but will also live in other habitats with freshwater.
Aquatic plants account for nearly 95% of their diets.
If you try to approach them, they will rapidly retreat into the water.
They can to breathe underwater through a sac which is in their tail. This allows them to stay underwater for extended periods of time.
Nesting usually occurs from May to June.
Females will lay between 10 and 25 eggs. The eggs hatch within 45 to 56 days.
A large adult can reach 15 inches in length and females are larger than males.
Related Posts: